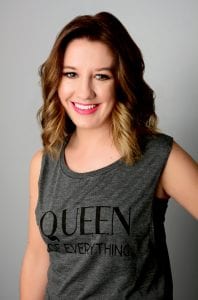 In the second installment of my Inspiring Mama series I had the pleasure of speaking to Amanda Simkin. Amanda is a lifelong Chicagoan and the mom behind the popular blog Queen of the Land of Twigs 'n Berries. She shares her family's adventures on her blog and social media to help moms learn about the amazing things Chicago has to offer, all with a hefty dose of humor and realness.
Amanda really is a mama enjoying her family life one hot tub moment at a time, and I love her for it.
What inspires you?
So many different things can inspire me. It can be a mom's beautiful and honest social media post, a walk through Chicago Botanic Garden, listening to a podcast about how business owners have started their empires… the opportunities are endless. I think the most important thing is to keep your ears, eyes, and heart open for the world to inspire you.
What tips would you give to new moms trying to balance work and family life?
I don't like the word "balance" because after almost eight years as a mom, I still can't achieve it. Instead, I like to set a goal of harmony. Sometimes my work schedule can be crazy and take up family time, but then other times I can be more present and at home with my kids and husband. I don't let myself feel too guilty or become too stressed about having a busy week because I know the next one will be much less demanding.
What has been the single most defining moment of your career journey?
So many writers can feel like they create and create but no one really reads or appreciates their work, including me. While my blog and social media accounts have been featured in publications, the most defining moment of my career was when I was on vacation with my family and a mom walked up to me to tell me that she loved my blog. It was the first time a total stranger recognized me and told me that she was a fan of my work and I will never, ever forget it. It's a mom like her that keeps me going.
How to do you GET IT TOGETHER for your family? What parenting hacks can you share?
I don't know what I would do without a massive grocery shopping and meal planning session on Sundays. Getting those errands accomplished and coming up with a plan for the week makes the weekdays so much more manageable. And having a glass of champagne while meal prepping is the perfect way to have your own personal Sunday Funday.
Do you have any favorite mottos you can share with us?
Whenever a task overwhelms me, whether it is tackling holiday shopping, revamping my website, or starting any other task that seems insurmountable, I think of the quote: "How do you eat an elephant? One bite at a time." And no, I have no desire to actually eat an elephant.
If you won $10 million in the lottery what would you do?
Divide it into three: Save (college funds), spend (travel), and make a positive difference (non-profit organizations) with the rest.
If you had to describe yourself as an animal, what would it be and why?
I think I'm very similar to my dog. Skeptical of new people but fiercely loyal, happiest at home, and always tired.
What are you binge-watching right now?
I'm 'The Real Housewives' obsessed. Probably because there isn't much drama in my life so I enjoy watching it play out in other people's lives. I may or may not have a countdown to the new season of the Real Housewives of Beverly Hills on my calendar as we speak.
What part of adulting do you hate?
I miss having lazy Sundays when I could sleep in, meet friends for brunch, watch television all day… basically do anything I wanted. Now it's filled with errands and whatever crazy ideas my kids come up with.
What keeps you up at night?
Nothing. Because once my head hits the pillow I am O U T.
Who is your celebrity crush?
My goodness – there are so many attractive people out there! Being related to a movie star, I know that celebrities truly are just normal people so I am more attracted to people's personalities. Justin Timberlake seems like a good dad and I've heard that Ryan Gosling changes diapers, so let's go with them.
What's your annoying habit?
I am that crazy person who will start cleaning up her house while hosting a party. The urge to clean up the disaster of a playroom is stronger than the urge to relax with friends and a glass of wine. I'm nuts.
You can find out more about Amanda at http://queenofthelandoftwigsnberries.com.