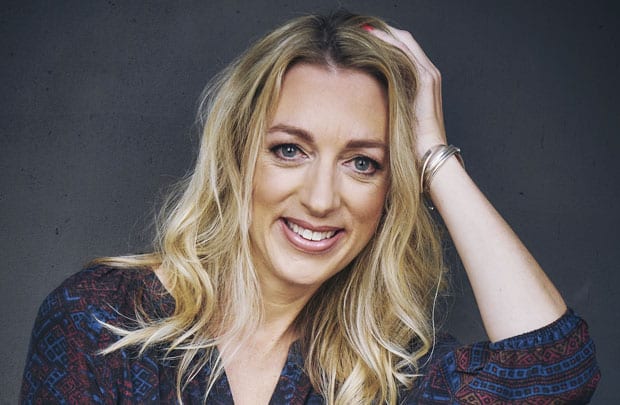 For my latest installment of 'Inspiring Mamas" I was lucky enough to chat with the co-founder of Mabel's Labels, Julie Cole. Julie is a recovered lawyer, mom of six and co-founder of Mabel's Labels. She has helped her company bring their product to a worldwide market, gained media recognition and won countless entrepreneur awards. Cole is a regular television contributor, a sought after speaker and emcee, and a digital influencer and blogger.
I'm a big fan of Mabel's Labels. The first time I used the labels was for my eldest son's first summer camp. They were a lifesaver. Fast forward many years and I'm still using them for all my kids stuff. I love to support a mom-owned business. A mom with six kids no less!
What tips would you give to new moms trying to balance work and family life?
You're not always going to get it right. That's OK. Ditch the mom guilt. If you are feeling like you are not balancing well, think about what changes you can make, and adjust accordingly. Sometimes work is going to be more demanding, sometimes home will be.
What's been the single most defining moment of your career journey?
There have been a few. For example, the first time the business received extensive media coverage. We had an incredible response! This confirmed to us that the market was ready for us. Also, there was a moment when, as an entrepreneur, I could pay myself a salary. I knew at that moment that Mabel's Labels was going to make it.
How to do you GET IT TOGETHER for your family? What parenting hacks can you share?
I have a number of tips. Firstly, raise and coach your kids to be independent. I say to my kids "Anything you can do for yourself, you should do for yourself." Resist the urge to do things for them. Short term easy, is long term hard when it comes to kids. Secondly, create a "Do not do" list for yourself. I see so many moms with huge to-do lists. What are you doing that you should NOT be doing? Delegate it now (to your children too)! I have not un-stacked a dishwasher in two years.
Do you have any favorite mottos you can share with us?
Yes! Firstly, don't treat your kids the same because they are not the same. Your kids all have different needs and respond differently. I have six kids and six different parenting styles. Secondly, your network is your net worth. Surround yourself with good people – professionally and personally. Lastly, don't cling to a mistake because you spent a long time making it. Bad start-up, bad friendship, bad marriage, bad hire? Move on.
If you won $10 million in the lottery what would you do?
I'm not entirely sure I'd do anything differently. I may re-do the kitchen, but it's actually fine as it is!
What are you binge-watching right now?
I don't watch TV. I know….I'm a weirdo….but I love Seinfeld re-runs!
What part of adulting do you hate?
Domestic stuff… cleaning, cooking, etc. I'm an excellent parent, but I could do without some of the other stuff that comes along with it.
What keeps you up at night?
Myself! I am a total nighthawk. I never go to bed before midnight and I fall asleep as soon as my head hits the pillow. I don't get a lot of sleep but seem to function OK regardless!
Who is your celebrity crush?
My first was River Phoenix. I guess that was my last one too!
What's your annoying habit?
I'm afraid to ask my kids, this could end up being your longest interview ever!
You can find out more about Mabel's Labels at www.mabelslabels.com.