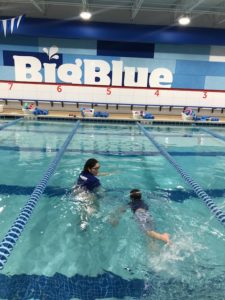 Recently, my six-year-old son, Wells, and I went to Big Blue Swim School for a lesson, but I have to tell you – he left with so much more than just a better backstroke. The world-class teachers at Big Blue taught my little guy safety and confidence in the water – two things that will give us both a lifetime of peace of mind every time we are near the water. As a family that flocks to the pool and the beach every chance we can get, this is invaluable!
During his post-lesson shower, he asked, "How soon can we come back?!" And I thought I'd died and gone to parenting heaven! As a mom of three boys, it is a huge challenge to find activities my kids will love and that don't completely cramp the family schedule. So when my child is begging me for more time in the pool and I get to escape our freezing Chicago winter to watch him grow as a swimmer, it's a win-win situation!
During Wells' swim lesson, I chatted with a few of the other moms who couldn't say enough great things about Big Blue Swim School. The flexible scheduling, the enthusiastic instructors, and the cleanliness of the facility have made Big Blue a family favorite for everyone!
Here are the top 4 reasons Big Blue Swim School is different from other swim schools:
Full-Time Teachers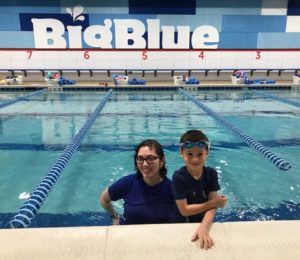 Big Blue is the only swim lesson provider that hires and trains full-time teachers. They know that having access to the same experienced teachers every lesson gives your child the consistency and expertise they need to crush their swim goals. Your child will typically have the same teacher every week, so the trust and bonding that occurs during lessons ensures fast progression. Their full-time teachers are so enthusiastic about giving children a love for the water that students learn to swim independently very quickly. And their passion shines through in their commitment to creating customized, effective and fun lessons for each child. Also, because Big Blue is not a franchise, they are able to keep the focus on families by investing in a staff that gives your child a top-notch swim lesson. I definitely felt the staff's camaraderie and warmth on our very first visit!
Time-Saving Flexibility
Scheduling your lessons couldn't be easier! Just hop on to the Big Blue website and schedule all your kids' lessons with just one straight-forward click, no matter their age or proficiency. Big Blue offers 50% more lesson times than their competitors, which means families can coordinate one lesson time for several siblings and avoid making multiple trips!
You can log into your Big Blue account from any device to move lesson times, schedule FREE make-up lessons, add additional lessons, update personal information and track your child's progress. And, get this! If you completely forget your child's lesson, the system will make a note and help you reschedule. No embarrassing phone calls to the front desk to apologize (though you always can) – just another great time saver for your already maxed-out schedule.
Lessons are offered for babies starting at six months old and continue through age seven and up for swim team.
Stress-Free Facilities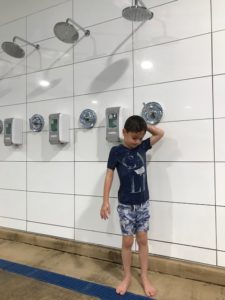 Big Blue's facilities are second-to-none. When you walk through the door, you're greeted by a friendly staff in – you guessed it – a BLUE, soothing space designed for the best possible swim experience. The antimicrobial carpeted floors in the lobby keep your kids safe from scrapes and bruises, and the individual family changing rooms give your family the privacy it deserves.
And check out these facts about the pool water!
Big Blue's 90-degree ultra-clean water is gentle on your child's sensitive skin. It's spa-level mineral water.
Big Blue uses a saline system with special ultra-violet filtration to provide a state-of-the-art defense against waterborne illnesses and harsh chemicals. This means their water is the best in the business and less harsh on children's skin, which is especially beneficial during the dry winter months.
Faster Swim Progress
Big Blue Swim School offers the best teacher-to- child ratio in the industry: one teacher to every three children, ages three-five years-old. Also during every lesson, a Big Blue manager walks the perimeter of the pool with an iPad and makes notes on every student's progress! Together your child's teacher and the manager coordinate a customized swim plan for your child, ensuring they don't plateau. Wondering how your child is doing? Ask the manager, the teacher, or check your parent portal to see his progress! The specialized attention guarantees your child won't get left behind and that you won't waste time or money getting your child on the Olympic team!
Big Blue Swim Promotion:
Big Blue Swim School is currently offering $10/lesson for your first six lessons when you sign up for weekly lessons! Get it together, moms! You can even set-up a weekly date with your mom group and have the kids take lessons together while you get off Mommy Island and connect with your friends!
So what are you waiting for? Big Blue Swim School makes it so easy! Go to www.bigblueswimschool.com and click the red "Free Trial" button to get your child's free swim lesson scheduled or call your nearest location. Big Blue has made it their mission to design the best swim lessons in the industry. You and your kids will love it!
*This post is sponsored by Big Blue Swim School.