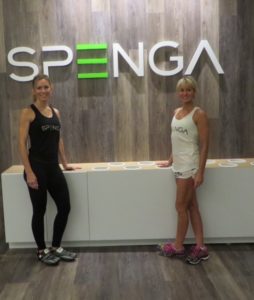 Recently I had an opportunity to try out a new fitness experience called SPENGA. With five locations opening in the Chicago area over the next few months I knew I didn't want to be left out of the party. My body after three babies was rebuilt from strength exercises, and since that's SPENGA'S holy grail I had to check it out.
You're thinking, "What the huh is SPENGA?" SPENGA combines three elements of fitness to create what they say is "The best workout ever" combined together in a 60 minute session of spin (SP), HIIT (EN) training and yoga (GA). That's how the name came to be!
But, on top of the exercise facility being filled with what you'd expect, you know, like equipment, weights and black rubber mats, SPENGA'S front lobby sets the tone with a beachy, clean, crisp design and energy.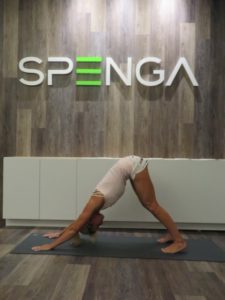 To quote Heather Ruff, Vice President of Operations and one of the co-founders of SPENGA, as well as my trainer for the day with 17 years experience in the fitness industry, "We want to give our members a multi-sensory experience from the minute they walk in our front door and immediately lighten and charge up their moods."
SPENGA spent a lot of time selecting a diffused essential oil combination to set the exact mood they knew would inspire their clients. What a unique concept in the exercise boutique world! As essential oils have been proven to have a healing effect mentally, physically and emotionally, these are even more benefits for spending an hour in this heavenly smelling haven. During child's pose on the yoga mat I was pretty shocked at how fresh it smelled. Yup, an oil that woke up my senses versus a stinky, sweaty, gross mat.
But, I don't want to give you the impression that SPENGA is a hippy dippy la dee da studio. No, they are going to work you out.
Each 60-minute class consists of spin, HIIT (High Intensity Interval Training, timed intense bursts of exercise) weights training and yoga, spending 20 minutes on each modality. It's three workouts in one giving special emphasis to strength, which they believe will improve your spin session and enhance the yoga, and I agree!
Let me break it down for you:
Spin (SP)

I'll start by saying I don't like to spin AT ALL and as that's how SPENGA kicks off its 60 minute sweat sessions I wasn't exactly thrilled. I was actually quite skeptical of the workout and not racing to try it. But, Heather helped me choose a stationary bike, got me set up and gave me a tutorial on what sets their spin class apart from their competitors. They call it the "Sweet Spot." Each bike has a reading that correlates immediately to how hard an individual is working. This "Sweet Spot" is personalized to each individual, and is an easy way to track progress. SPENGA believes every single person can do this workout. No, it didn't convert me from my love of the treadmill, but I can honestly say it was my favorite spin class in my history of spinning – and it was only 20 minutes. The time flew by because I was distracted listening to Heather's visuals and motivational words. Then, during the bike cool down Heather explained that the class was shifting to the next section in the studio and told us what weights we should grab for the first strength exercise.
HIIT (EN)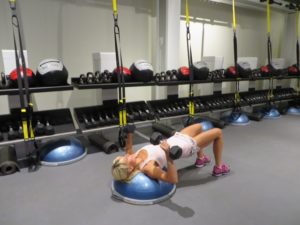 The class shifted to the middle section of the studio for the weights portion of the workout. Everyone has what SPENGA calls pods, separate areas with personal space where everything needed is within fingertips reach.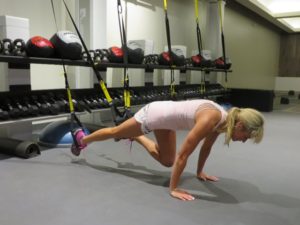 Again, we spent 20 minutes lifting weights and gaining strength. Every class is different, which keeps boredom away. Weight training is how you're going to bounce back and change your body after baby, Moms! Strength is formatted so everyone can do it and careful attention is paid to offer modifications for every fitness level. SPENGA offers their specially termed "Survivor exercises" in case you need a break from lifting. These exercises are modifications you can make. For example, running in place with high knees so you still keep your heart rate up.
Yoga (GA)


Last up in the sweat session was yoga. I longingly stared at the yoga area while I was getting my body strong in the strength session and couldn't wait to lie down and stretch. Boy, was I wrong. Because the body is coming into yoga already warmed up, the focus of this portion is on strength-based poses, as well as balance and posture. The music is still high energy DJ-inspired and cranked up. It wasn't until the last few minutes that the music slowed and I tuned into my mat and smelled the essential oils for cool down, stretch and the end of the class.
SPENGA's philosophy is based on the body needing strength, cardio and flexibility and they give it all to you in 60 minutes. Every person's body has one weakness so I challenge you to take a class and let me know what yours is. We know mine is spin. Here's the reality: 20 minutes will fly by and before you know it, it won't be a weakness any longer. Give it a try!
Share your #1 reason for exercising on GIT Mom's Facebook page or send us a Tweet for a chance to win a SPENGA branded tank top and a one month unlimited pass to SPENGA in any location!
Eirene Heidelberger is a Chicago-based parent coach and a mom to three boys. Her business, GIT Mom, is dedicated to helping parents Get It Together so they have more time for the activities they most enjoy. When Moms have the right tools to create family balance, they have the freedom to create happy mommy time for themselves. Happy confident moms raise happy confident kids! You can reach her at www.GIT Mom.com and on Facebook at Facebook.com/GIT Mom.