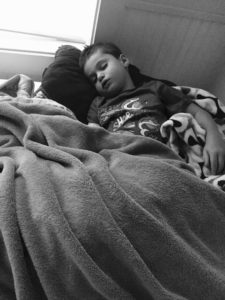 My crew is constantly on the go so I was excited to try out the Kids Line blends from Rocky Mountain Oils (RMO) in portable roll-on bottles. And, because my rough and tumble kids don't disappoint, I was able to use Ouchie almost immediately on a series of scrapes and bug bites obtained on a walk through the park. More potent than my "magic dust," it smelled pleasantly of geranium (it also contains lavender, one of my typical go-to oils for cuts) and went on neat and fast.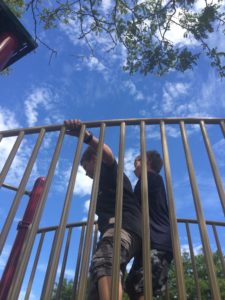 We played at the park with a few other kids who, just our luck, were coughing and drippy so I discretely rubbed Immunity on the backs of my kids' necks and made a mental note to anoint the bottoms of their feet at bedtime. That night I rubbed it on my feet, too, for good measure. And… nobody got sick.
Breathe is purported to support the respiratory system, so we tried it out in the garden where our seasonal allergies tend to act up. It smells pleasant and was a spirit lifter. Simply taking the time for self-care had a positive affect on my family so that's a plus in my book.
After playing basketball we tried Muscle Soothe on sore arms and legs. This roll-on has Frankincense, my favorite oil, so I rubbed a little on my own sore muscles and counted the minutes until bedtime!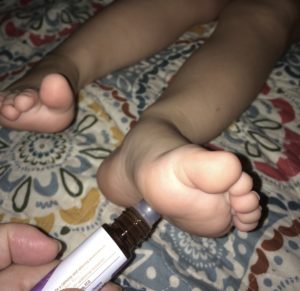 At last it was time to try Counting Sheep, which promises a "calming and relaxing environment during the wind down time before bed."  The kids rubbed the woodsy scented oil on the bottoms of their own feet because mommy had a date with a hot shower and a glass of wine. I put a few drops of At Peace in the diffuser in the upstairs hall and said good night. Within minutes, the clean and citrusy smell had everyone mellowed out in their beds and reading. The best part: When I emerged from the shower, my house was silent and my whole brood was asleep.
About Eirene Heidelberger, The GIT Mom
Eirene Heidelberger is a Chicago-based parent coach and a mom to three boys. Her business, GIT Mom, is dedicated to helping parents Get It Together so they have more time for the activities they most enjoy. When Moms have the right tools to create family balance, they have the freedom to create happy mommy time for themselves. Happy confident moms raise happy confident kids! You can reach her at www.GIT Mom.com and on Facebook at Facebook.com/GIT Mom.