In November the city of Chicago announced plans to create a New Year's Eve experience to rival New York's Times Square countdown and ball drop. My family of five has never ever celebrated New Year's Eve together; so I guess I felt motivated to do this… let's make plans for a 24-hour Chicago staycation! If you're looking for some inspiration for what to do with your brood this year, keep on reading!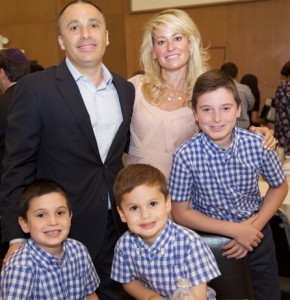 Our first destination is the Chicago Theater at Water Tower to see A Charlie Brown Christmas at 10:30 a.m. This means that my goal is to load five people into a car by 10:00 and, as we live in Lincoln Park, it's a 10-minute slooow drive to the Magnificent Mile I'm building in time for my slow pokes.
So, what does my morning look like before we leave? I will hit Shred415 at 6 a.m. for a 60-minute high intensity exercise class. I find if I pay for a class I am 100% going and not wasting my money. Then I'll race home to get the kids breakfast at 7:00. After that, I'll get myself ready while they respect my space. Then it's the kids' turn, and my husband, Brian, and I will divide and conquer to get them ready.
GIT Tip "One cook in the kitchen" Designate one parent to take the lead getting out the door on time so kids receive consistent direction on what they need to do to get this done. Moms! Don't be control freaks. Your partner is a grown-up. Give him a chance to be in charge, and shut up.

After Charlie Brown, we are heading to RL (Ralph Lauren) to get our festive holiday fancy lunching on. Sure, some may say a hoity toity meal on Michigan Avenue is a bit much for little kids, but in my family we make sure my husband and I don't get lost while raising three boys. You can still taste the good life. It's not over just because you have kids people! You can still do it all, just a tad differently – and not all of the time.
GIT Tip Prior to entering the restaurant I will pull my boys aside, get down to their level and tell them my expectations for the lunch. I'll explain that the restaurant is fancy and reserved for special occasions. It will be loud and busy so it's extra important everyone stays in his seat, not add to the raucous or cause extra commotion. I expect them to place their own orders and say "please" and "thank you" when they are served. I finish by giving them a goal like, "If you focus at lunch we will be done in an hour and get to go swim." This keeps their eyes on the prize and makes the meal as easy as possible for us.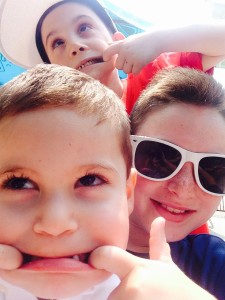 Next up we will head to a hotel with a pool and check in for the night. I will already have called the hotel and spoken with the front desk directly by 7 a.m. (a quieter time for them) to explain that we will be arriving before check-in time, but, if possible we would love to get into our room. This works the majority of the time. Remember, you attract more bees with honey, so make that phone call and be gracious. If you need to bend the truth to get in early by saying something like, "My two-year-old really needs a nap to be able to stay up," DO IT.
After we get into our hotel room my husband will get the kids into swim trunks while I get the room organized, simultaneously wrangling coffees and bubblies for the grownups. I typically bring my own booze to hotels to save money on their exaggerated up charges and to guarantee I get to drink what I love. Hey, remember this is our vacation too.
GIT Tip If a parent needs a time out from the family dynamic, respect their request and honor it. Humans are not meant to be together 24/7 and it's ok if one of you needs to take a break. Be an understanding spouse, not a nagging one.
With that being said, the Heidelbergers will hit the pool minus one mom who will be in her robe with her phone and her wine. You know what? I'm good with that. In fact, I'm great with it. My kids know it takes 90+ degrees to get me actually IN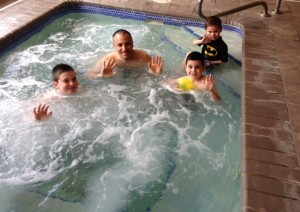 a pool, but, they definitely appreciate that I've gotten them to it with their 82,000 footballs, basketball hoop, water bottles, snacks, and cozy clothes to change into afterwards… so for God's sake people, give me a break while you swim. During the pool portion of our day I'll be the bad cop. This means I'll keep it under two hours so the kids don't get totally wiped out and make going out to dinner a cranky disaster.
When there are 10 minutes until I want to leave the pool, I tell the gang, "In five minutes we are getting out." Then they get two and one minute warnings. The timing is not a perfect science, but, when this transition method is used all of the freaking time, your kids know it, respect it, listen and get out of the pool when you want them out!
Next up is chill time. This means it's time for the kids to get out of our faces and play on their devices or sit in front of the boob tube. Mommy and Daddy need one hour of uninterrupted chill time. We are on Parents Island, occupancy of two.
Last up for our Chicago staycation is 5:30 dinner at Dolce Italian at The Godfrey Hotel. As my boys have eaten dinner at 5:00 their entire lives I'll make sure to put out the "Eirene Mommy Snack" at the hotel for them to munch on while we get ready to go. The team may be slow moving exiting the cozy hotel cocoon and the traffic may be crazy so I'll start this process thirty minutes earlier than I normally would. First, I will get myself ready. Once I'm put together and feeling great I can completely focus on the kids. I'll get the most difficult kid dressed first while my energy is at its highest and chuck clothes at the other two to dress themselves. Whatever whining is going to definitely happen it's not up for debate. I'm the Mom and this is what you're wearing. It's only for two hours so get over it (said calmly and sweetly to my devilish angels).
GIT Tip Happy hour can be any time in your day. I especially enjoy a little happy when I'm getting my family ready for an event. Remember the wine you brought to the hotel room? Find it when you're feeling stressed. It's ok. Everyone opens up their own happy and drinks it sometimes.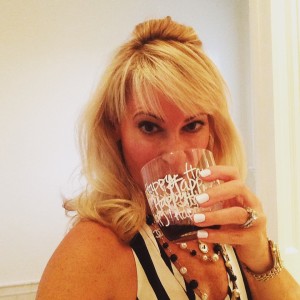 We hit Dolce and the kids will get a similar speech as before our lunch at RL in the car ride over.
Sit down.
Don't stand up.
Speak quietly.
Just don't be maniacs.
After 15 minutes I'll surprise the gang with silly cheap New Year's Eve party favors to get them to the end of the meal. Then we will pay the check and go and giddy up back to the hotel. I'll have pre-ordered dessert from room service while I was drinking my happy with specifications that I'd be calling 15 minutes out so it'll arrive when we do. Jam the kids in their PJs, feed 'em some sugar, throw a mini midnight countdown celebration, then put on another movie and, parents, you'll have done it again… a very successful memory making day!
GIT Tip No matter how crappy your kids are acting, just take a deep breath and ignore them. You've made a ton of effort to get to dinner so don't let your little person control you and stress you out. Trust me, restaurants have seen it all and there will be the next family with worse behavior. If your kid just can't Get It Together you get out!
This brings us to nighttime. How about this kids "Go the F to sleep." Every time our family is on vacation I am very specific about what my expectations are for sleeping.
A) Go to sleep
B) Stay in your bed
C) You are safe here and Mommy and Daddy are close by just like at home
D) Do not wake anyone before 7 a.m.
These stern words work when the five of us are sleeping in close surroundings. Try them any night even.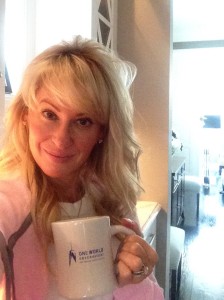 Happy New Year! You wake and 2016 has arrived. Get yourself some coffee from room service or the lobby, maybe even an orange juice to make yourself a Mimosa with leftover champagne from last night. Take care of you first and then your kids. Then, feed those monsters. Remember, they had a late night so their moods may be crappy. Keep this in mind, choose your battles and go with it. Be the grown-up and don't fight with them.
GIT Tip Hotels will happily honor late checkouts when you place a cordial call by 9 a.m. Especially on a day like New Year's Day, the hotel is already full and won't need your room for the next guest checking in.
As for us, we are heading to Shaw's Crab House for what I feel is the best brunch in the city to get our feed on before heading back home in time for my toddler's noon nap. We won't have any plans and will just chill at home because enough is enough.
What are you doing for New Year's?
Resolve to Get it Together in 2016! Contact me to set up an in home appointment or an online support session via Skype.
Eirene Heidelberger is a Chicago-based parent coach and a mom to three boys. Her business, GIT Mom, is dedicated to helping parents Get It Together so they have more time for the activities they most enjoy. When Moms have the right tools to create family balance, they have the freedom to create happy mommy time for themselves. Happy confident moms raise happy confident kids! You can reach her at www.GIT Mom.com.